For 1 person
Chair + Work lamp
Access to all services
For 1 person
Chair + Work lamp
Crossed out binder
Access to all services
From 1 to 5 people
Chair + Work lamp
Crossed out binder
Access to all services
From 1 to 5 people
Chair + Work lamp
Crossed out binder
Access to all services
Private loft 850 to 2500 ft
From 6 to 10 people
Chair + Work lamp
Crossed out binder
Access to all services
Business address
Mail reception
Fun during breaks and lunch in the kitchen
Everything you need to brighten your day. Appliances, coffee machines and even a foosball table!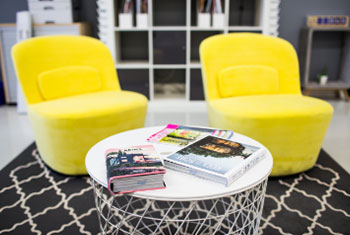 To have a chat or to read, take a seat
Several well-designed and inviting spaces border the work areas.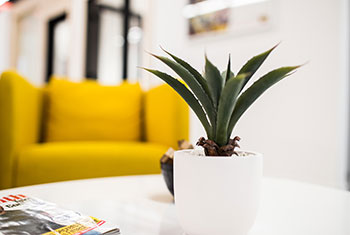 Ready for a sales pitch? Book one of our beautiful conference rooms
complicated at BuroLoft! And unlike other coworking places, you can use our conference rooms as many times as you want, no extra charge!
Benefits of our collaborative space
This is the essence of BuroLoft. It's more than a coworking space, it is a collaborative placewhere entrepreneurs support each other and build solid business relationships. Our members are all very comfortable in our coworking spaces, which is why they don't simply pass through- they stay.
Our members work in many different yet complementary fields, such as accounting and taxation, business law, human resources, tax credits for small businesses, design and graphic design, communication, Web marketing, writing, social media, event planning, franchises and project management.
Nice space at a good price, furniture included
Kitchen and coffee area (appliances, pantry)
Apples offered at all times
Possible access to spaces from 60 to 2,500 sq. ft.
Strategic location between highways 13, 15 and 440
Collaborative space open 24/7
Improving your networking
Access to our partners, Réseau M and the École des entrepreneurs du Québec
Secure Wi-Fi and wired Internet access
Self-service office equipment (printer, scanner, etc.)
Security provided by cameras and chips
Projectors and canvases at your disposal
Charging stations for electric cars
Taxes, snow removal and maintenance